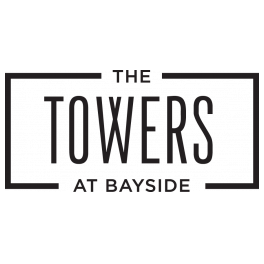 Your Review
Submit a Review

Resident Reviews
|Recommended: YesBeautiful Apartments — Easy, I hardly see any of my neighbors and when I do it's friendly. If the people living here weren't inconsiderate it would stay much cleaner but the apartment complex works hard keeping it clean.
|Recommended: YesGreat Location — I have lived in several apartments over the past few years and The Towers at Bayside is definitely my favorite. I absolutely love my floorplan and the awesome lake view that has done much to calm my spirit in these unprecedented times. The staff is really friendly and helpful. So happy to call The Towers at Bayside home.
|Recommended: Yes
1St Apt In 28 Years...and I Was Pleasantly Surprised — 👌🏻
John, Thank you so much for the review! Glad you are happy at Towers Bayside! Krystal Wells
|Recommended: YesGood — Good
|Recommended: YesLove It — Great property, great amenities
|Recommended: YesClean, Quite Beautiful — I read a lot of comments about how rude the office staff is... I have nothing but great things to say about them. They are nice and very helpful. We have had not issues with noise. So far we love EVERYTHING about Bayside
|Recommended: Yes
Personable And Helpful Staff — I love everything about the complex, aside from my floor and many other smelling like marijuana. It he complex itself isn't fully at fault for this issue, but I know if I smell it in the elevator, and on most floors, the employees do as well. I would also have to say that the hallways are not kept clean. It might just be our floor on the 4th level. I do not hit any other floor often. I know it sounds terrible, but I've made it a game at this point to see how long the 3 French fries near apartment 4403 in the corner will sit there. It has been 47 days as of today. Not a huge issue, but it feels a little embarrassing walking guests into our apartment, and having trash in the hallway. Also, an idea on the parking garage I had. It seems as though someone breaks the cross guard arm while entering the garage at least once a month. I'm not sure if it is allowed or not, but I would suggest putting a camera in there, letting tenants know it has been placed in there, and let them know the property damage would be charged to their rent if it is found to be a specific tenant.a vehicle.
Thank you, Jacob, for your review. We're so sorry you've been disappointed with the cleanliness of our community. Here, at The Towers at Bayside, we're always looking for ways to provide a clean living environment that all of our residents can enjoy. We are eager to receive more feedback, please call us at (469) 651-1550 or contact us via email at leasing@towersbayside.com! Warmest Regards, The Towers and Bayside Management Team
|Recommended: YesI Love It And Im Super Happy — Amy and all the staff are amazing and have gone above and beyond and have had such patience with me on my relocation from from Hawaii. They are very professional and positive. Great staff The amenities are amazing and its a very beautiful and relaxing. I really enjoy all the dogs at the doggie park from my lanai and the pool view Mahalo🌺
|Recommended: YesLoved It, Lived It, Moving On — When we first moved in, everything was brand new. The scenery is glorious, the staff is extremely professional, and the amenities are absolutely amazing. COVID-19 has hindered the usual monthly brunches, as well as the use of the poolside, fitness center, and clubhouse, which was definitely a selling point when it came to us leasing here. The only reason we're moving is based on the housing market now. We're getting more bang for our buck elsewhere, and are moving into a larger place for the same monthly price. We've had a great experience here, and would recommend it. Thanks for everything
|Recommended: Yes
My hubby and I love Towers at Bayside. Our neighbors are friendly and everyone greets each other and stop to visit. It has a resort vibe we love. It's fun to live in a pet friendly community and to see all the pups and their parents having fun. It's a very safe community in my experience. Before Covid I worked long hours and returned late nights and early mornings and felt 100 safe. Staff has been wonderful to us. They really do care about everyone. We are renewing for another 18 month lease because we don't want to live anywhere else We love the fun vibe year round but summers are so fun. Folks grilling and swimming and the sound of happy families laughing and playing is wonderful. And the lake is beautiful
Hi, Patricia. We are so happy to hear that you are enjoying your stay with us. We strive to provide a peaceful and welcoming environment, and re so happy you consider this your home. Please let us know if there is anything we can do to improve. Warmest Regards, - The Towers at Bayside Management Team
|Recommended: YesI Really Like It Here. The Staff Is Professional . — I would recommend living here, but I think that the parking can improve for guest and visitors of the residents. When our friends and family members come over they don't have anywhere to park.
|Recommended: Yes
Nice Place To Live If You Love The Lake — Relaxing place to live, covered parking, great floor plans, amazing pool, good weightroom, and a beautiful path to walk run on by the lake.
Thank you for leaving us a review! We are glad you are enjoying our community. We pride ourselves on our great floor plans, we are happy to hear you are loving the pool here as well. If you have any other feedback, please contact us. Thanks again! - The Towers at Bayside
|Recommended: Yes
Don't Like Apt. But This Place Is One Of The Best I Have Lived At — no
Thank you for reviewing our community. We appreciate your feedback about the condition of your apartment and would like to talk to you further regarding the concerns you have presented here so we can help resolve anything that is outstanding. Please feel free to contact us so we can talk to you more about your review. Thanks again. -The Towers at Bayside
|Recommended: YesTodo Es Excelente — Una propiedad muy segura para vivir